An Affordable Dream Located Near the Harbor and City Center
Just a five-minute walk away from a very idyllic harbor, and just five minutes away from the very charming city center, in close proximity to beaches of the fjord and the North Sea, to the city lake, and to endless hiking trails. All of this is offered to you by this city property.

Three Bright and Cozy Bedrooms
On 171 m2 of living space, you will find three beautiful, bright bedrooms – one in combination with a small living room and balcony, another with access to a large balcony overlooking the beautiful garden with ancient trees.

Very Inviting, Spacious Living Area
The very spacious living area with parquet flooring has two wood-burning stoves – each assigned to different seating groups. There is a very beautiful wrought-iron view into the kitchen area, which also has a very cozy breakfast nook.

Right next to the inviting entrance area is the very well-maintained guest toilet with modern fixtures.

First Floor with Views of the City and Garden Area
The beautiful winding wooden staircase leads to the first floor with a view of the city and garden area. Next to three bright bedrooms is a very modern bathroom – fully tiled.

Warm Atmosphere with Natural Wood Doors, Floors, and Ceilings
The house is connected to district heating – a big plus in these times.
Furthermore, there is a very practical pantry or rough kitchen with a supplier entrance and a very spacious cellar.
All doors are made of natural wood, which blends wonderfully into the cozy ambiance of the house.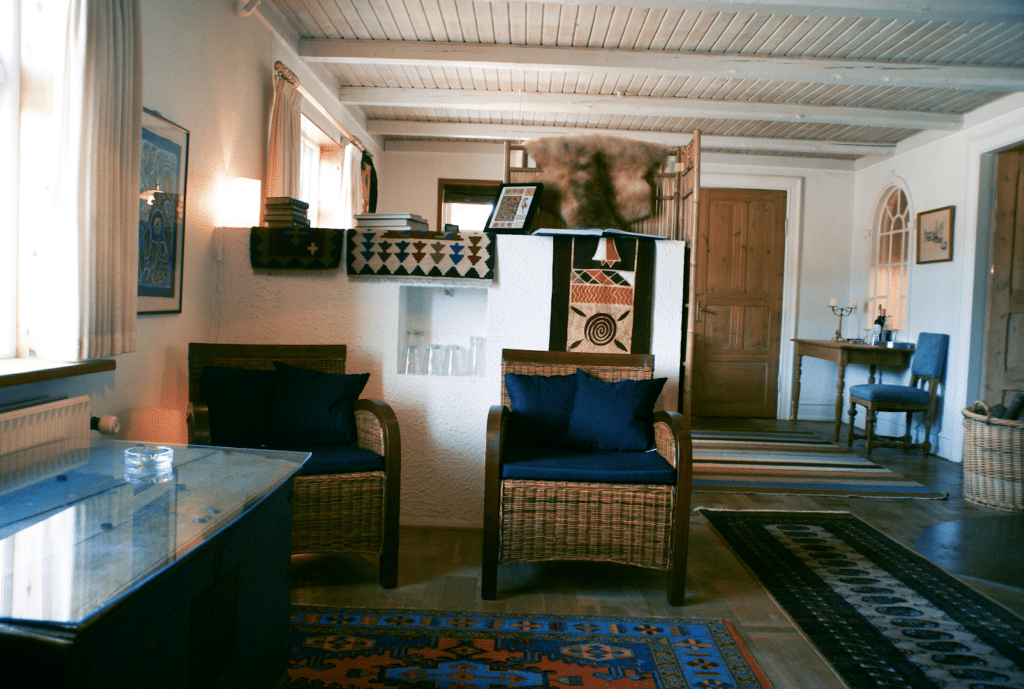 Versatile Outdoor Buildings and Solid Carport
In the rear area of the driveway, there is a solid brick carport with an attached room. In the garden itself, there is an additional small garden or party house with a charming fire pit and bar. 

Combining Elegance and Natural Living Experience
Here you have a unique mix of elegance and natural living. And that in connection with one of the most charming small towns in the country.
A rare opportunity: The house is being offered due to a business reorientation of the owner's company. Take this chance!
Believe us, you have to see this property and you will love it. Book a non-binding visit!

Offer Includes Takeover of Entire Inventory
This property can be taken over with all the inventory as you see it in the pictures – you move in and immediately feel at home. And all of this, including full inventory, for the amazing price of 195,000 Euros!

For a showing please call:

+45 26 73 63 22
© All rights reserved. Solus WordPress Theme.